Although his acting career was just tragically short, James Dean starred in three movies, appeared in numerous television shows and took to the stage on multiple occasions.
Filmography
Even though he only starred in three films, James Dean was nominated for two Academy Awards, for his performances in "East of Eden" and "Giant." He was a widely admired screen personality, a personification of the restless American youth of the mid-50's, and an embodiment of the title of one of his film "Rebel Without A Cause."
EAST OF EDEN
Drawn from the last few pages of John Steinbeck's mammoth novel, East of Eden is powerful, intense family drama, about rivalry between two sons for the love of their father. What makes director Elia Kazan's film so remarkable is the casting of virtual unknowns in the leading roles. As Abra, the girl who comes between the brothers, Julie Harris portrays a woman torn between the two; as the stern patriarch Adam Trask, Raymond Massey couldn't be bettered. Richard Davalos, as the 'sensitive' brother Aron also gave a fine performance. 'It's the actor who plays Cal who really bears watching,' critics raved...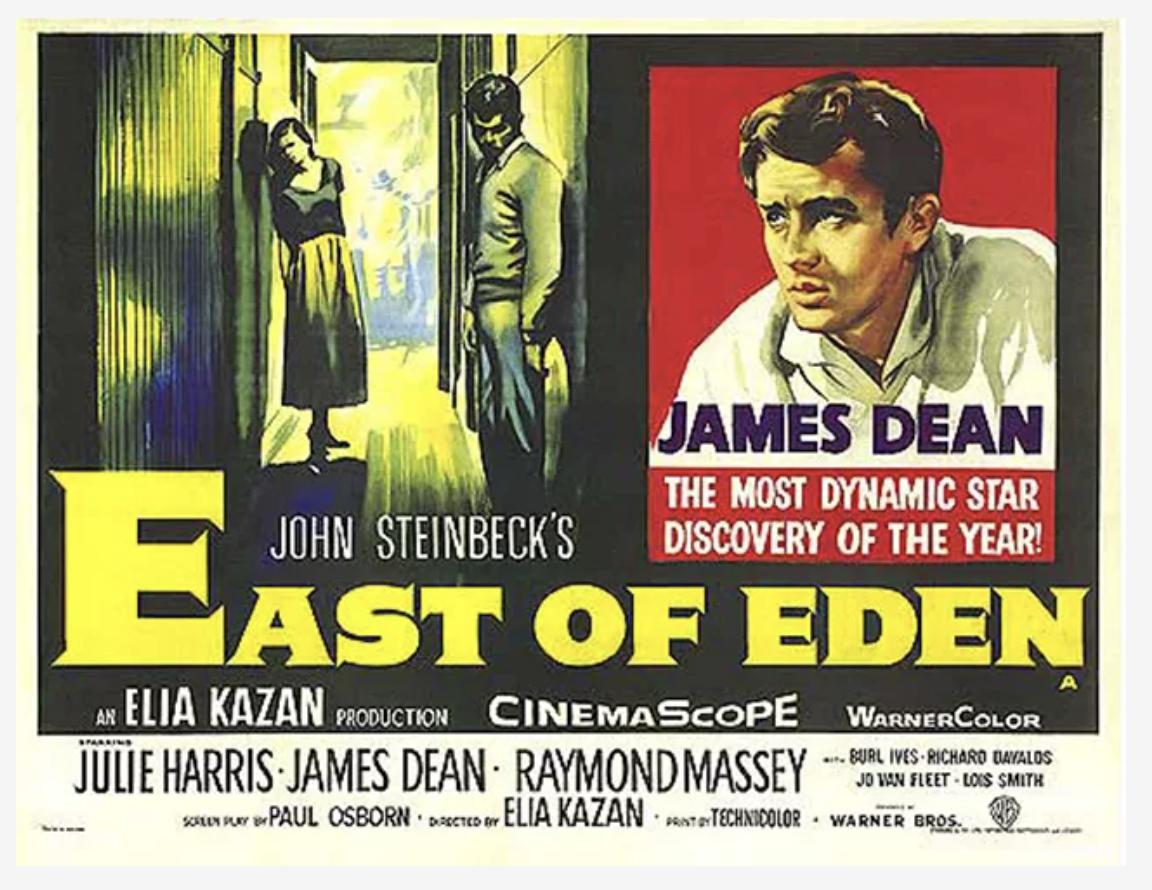 REBEL WITHOUT A CAUSE
Just under a month before Rebel Without A Cause premiered in New York, James Dean had been killed in a tragic auto accident at the age of 24. It's impossible to watch Rebel without a deep sense of regret, of loss. His performance as Jim Stark - "the bad boy from a good family" - as the ads described it - is a masterful achievement, fulfilling the promise shown in his previous film, East of Eden. Dean plays the angst-ridden son of henpecked Jim Backus (Frank Stark) and Ann Doran. He forms a substitute 'family' with girlfriend Natalie Wood (Judy) and timid Sal Mineo (Plato) after a tragic incident - an automobile test-of-nerves dare known as the "chickie run" - has brought them together. Rebel is more than a monument to its star, it's a movie for all time.
GIANT
Jimmy had been signed by Warner Brothers to play the role of Jett Rink in Giant, based on Edna Ferber's best-selling Texas saga. The script described Jett Rink as 'a violent young ranch hand, half juvenile delinquent, half genius, who wants to make a million (He makes a hundred million)...Tough, always angry, restless, bewildered and reckless with animal charm and a tycoon's magnetism." The script required him to age from 19 to 46. Directed by George Stevens, the cast featured Elizabeth Taylor and Rock Hudson as Leslie and Bick Benedict; and included Dennis Hopper and Sal Mineo, who also appeared in Rebel Without A Cause.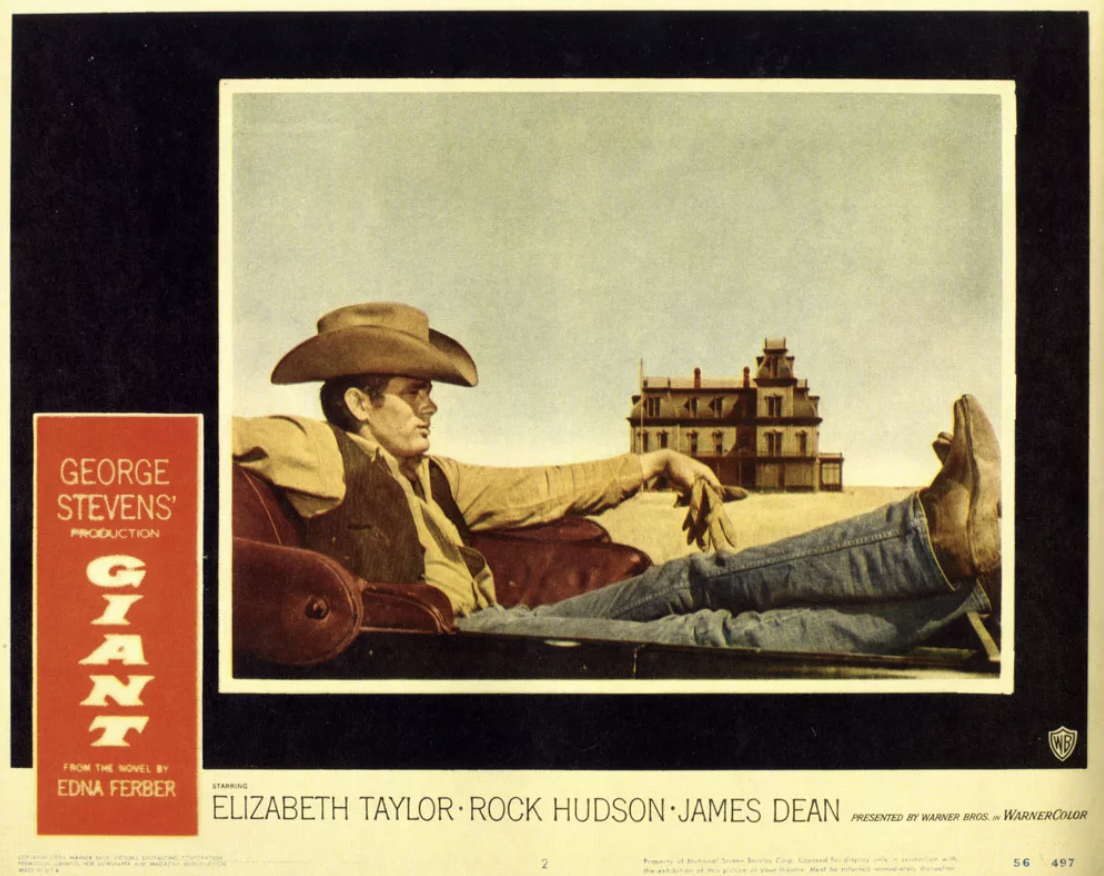 APPEARANCES
Fixed Bayonets (1951) | Sailor Beware (1952) | Has Anybody Seen My Gal? (1952)
MOVIES INSPIRED BY JAMES DEAN
The James Dean Story (1957) | James Dean: The First American Teenager (1976) | September 30, 1955 (1977) | Come Back to The Five and Dime, Jimmy Dean, Jimmy Dean (1982) | James Dean: Live Fast, Die Young (1977) | James Dean: Race With Destiny (1998) | James Dean (2001)
TELEVISION
Although he was best known for his role in movies, James Dean also occasionally appeared on television shows such as "Studio One" and "Treasury Men in Action." Although they are not as well known as his movies, they still had an impact on his acting career and style.
Hill Number One on Family Theater (1951) | Sleeping Dogs on The Web (1952) | Ten Thousand Horses Singing on Studio One (1952) | The Foggy, Foggy Dew on Lux Video Theater (1952) | Prologue To Glory on Kraft Television (1952) | Abraham Lincoln on Studio One (1952) | Forgotten Children on Hallmark Hall of Fame (1952) | The Case of the Watchful Dog on Treasury Men in Action (1953) | The Capture of Jesse James on You Are There (1953) | No Room on Danger (1953) | The Case of the Sawed-Off Shotgun on Treasury Men in Action (1953) | Something for an Empty Briefcase on Campbell Soundstage (1953) | Sentence of Death on Studio One Summer Theatre (1953) | Death Is My Neighbor on Danger (1953) | The Evil Within on Tales of Tomorrow (1953) | The Big Story (1953) | Glory in The Flower on Omnibus (1953) | Keep Our Honor Bright on Kraft Television Theatre (1953) | Life Sentence on Campbell Soundstage (1953) | A Long Time Till Dawn on Kraft Television Theatre (1953) | The Bells of Cockaigne on Armstrong Circle Theatre (1951) | Harvest on Robert Montgomery Presents... The Johnson's Wax Program (1953) | The Little Woman on Danger (1954) | Run Like a Thief on Philco TV Playhouse (1954) | Padlocks on Danger (1954) | I'm a Fool on General Electric Theatre (1954) | The Dark, Dark Hour on Geleral Electric Theatre (1954) | The Thief on Family Theater (1951) | The Unlighted Road on Schlitz Playhouse of Stars (1955)
STAGE
James Dean's career as an actor began on a stage in Fairmount, Indiana. He was still performing on stage in 1954, however this time it was on Broadway, in a show called "The Immoralist."
BROADWAY PLAYS
See The Jaguar 1952 | The Immoralist 1954
OFF-BROADWAY PLAYS
The Metamorphosis 1952 | The Scarecrow 1953 | Women of Trachis 1954
SCHOOL, SUMMER STOCK & CHURCH PRODUCTIONS
Macbeth at UCLA She Was Only a Farmer's Daughter at Santa Monica City College The Romance of Scarlet Gulch at Summer Stock To Them That Sleep in Darkness at Church An Apple from Coles County at Fairmount High School Gone With The Wind at Fairmount High School The Monkey's Paw at Fairmount High School Mooncalf Mugford at Fairmount High School Our Hearts Were Young and Gay at Fairmount High School You Can't Take It With You at Fairmount High School